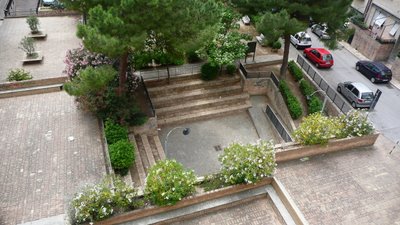 This morning I decided to tackle packing the books in the living room. I turned on my favorite DVD of the Gilmore Girls and happily set to work. I hadn't been working long when I noticed that I could hear a group of kids outside. I went to the window to see and there below in our piazza were kids on a field trip. One of the schools near our house has a teacher who on occasion brings his students to our piazza for class. It is a nice piazza with lots of trees and a small area with stadium like seating where the kids can sit and the teacher stands below so all the kids can see him. I have seen him down there many times and he seems like a fun teacher making the kids laugh and often including songs in his teaching.
I stood outside and watched them for awhile. I noticed two other people in our piazza a elderly man named Gino who is an older man who has lived in this piazza since he was a child. He has some form of dementia. Every day he walks around meeting new friends, of course these are the same people he meets everyday, and he is always willing give you a warm smile and to tell you a war story or two. Then there was Stefania who is a woman who wanders around the downtown area of Ancona. Some days she is as lucid as you and I and you can actually have a real conversation with her. Other days she walks the streets singing at the top of her lungs or on the really bad days screaming as if she is reliving a haunting memory over and over again. Every morning she walks from somewhere up back behind our building around and across the piazza off to wherever she is going that day. Then again in the evening she takes the same path but in reverse back to wherever it is that she calls home.
I know that in a few hours when school is out for the day our piazza will once again be filled with the voices of children playing. Every afternoon from about 5 until the sun goes down our piazza is filled with life. Children playing on the swings, sliding down the slide, playing hide and go seek, boys playing soccer and girls making up dances. The parents and grandparents sit around and talk about their children.
These are the people that we hear, see and talk to each day. They describe the daily life in our piazza and as I stood this morning and watched I felt comforted. All was right and normal today but then I remembered…not all is normal because I am packing my house into cardboard boxes. These people and sounds that have over the years become home to me are soon to be a memory. This will only be my home for a few more weeks. I don't know what I will see when I look out my window in Verona but I pray that the people and sounds will again become comfortable to us. I will miss our piazza and I am so thankful that God has given us the years we have had here. So with a prayer of thankfulness in my heart I return to my boxes wondering what sounds I will hear coming in my windows when it is time to unpack these boxes.